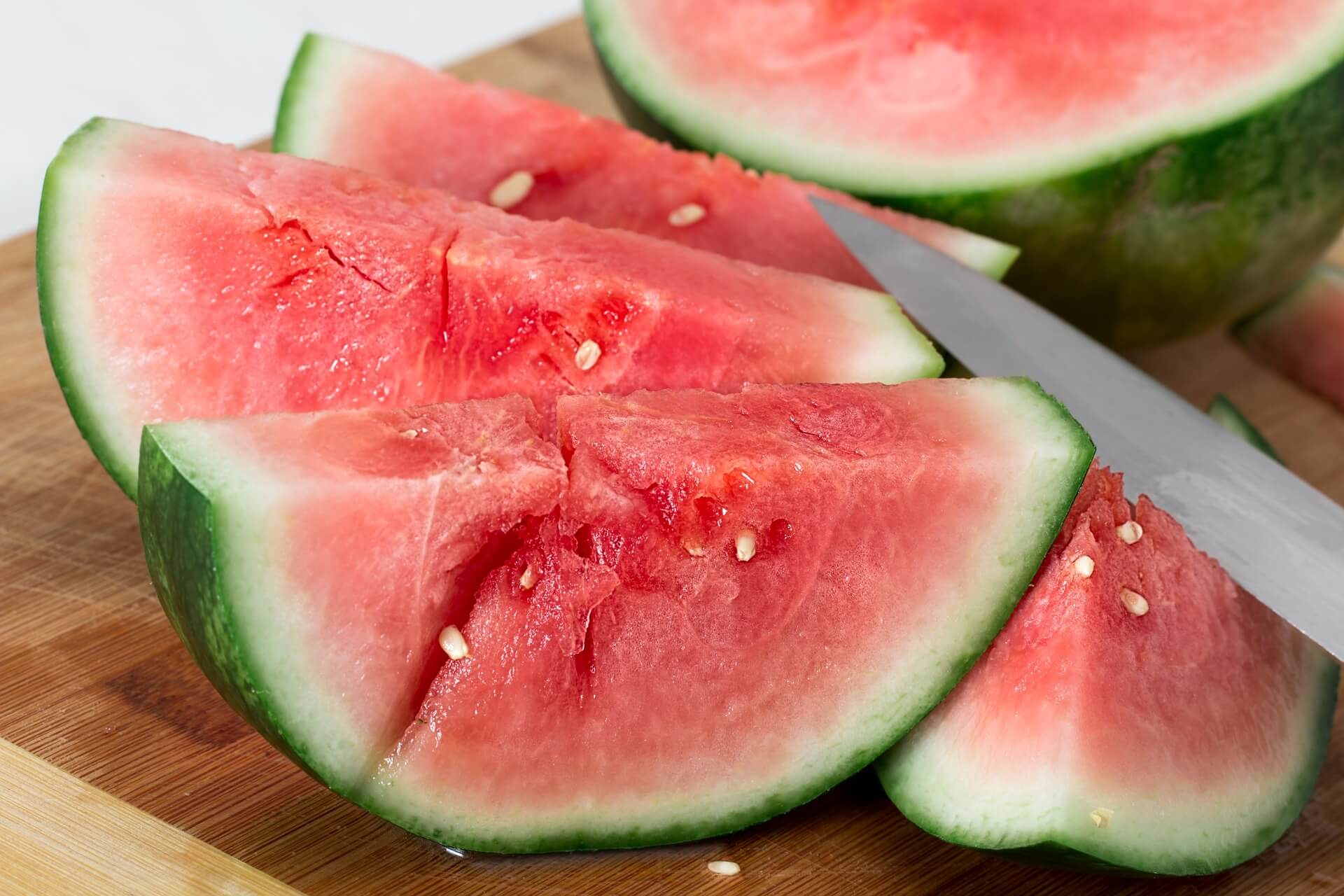 A true summer icon, this delicious fruit stands out not only for its vibrant color but also for its numerous health benefits. If there was an official summer superfood, the watermelon would top the list.
The What
The watermelon we enjoy today, like other crops, is quite different from when it was first grown. Careful selection of the best watermelons over centuries has ultimately produced the rosy sweet fruit loved by so many. It's worth noting that the watermelon wasn't always so delicious. In fact, it's quite the opposite. Early watermelons had a harder rind and a bitter or bland inner flesh. To better understand why the modern watermelon came to be, let's start with its origins. Dating back more than 4000 years, watermelons can be seen throughout ancient Egyptian history. Both watermelon seeds and paintings of watermelons have been found in the tombs of Egyptian pharaohs, including King Tut's. So why did an ancient civilization put so much effort into repeatedly growing a fruit that was tough and didn't taste very good?
A big reason is part of the name; water. More than 90% of a watermelon is, you guessed it, water. This makes it an incredibly useful food source in hot climates. Watermelons also had a shelf-life worth noting. In a time without modern refrigeration, keeping food was a constant challenge. Watermelons could be kept for weeks or even months when stored in cool, dry locations. Fast forward several thousand years of selective breeding and we have the delicious summer fruit everyone instantly recognizes. The fruit is popular with more than just ancient civilizations, however. The largest producer of watermelon, China, grows nearly 83 million metric tons of watermelon each year; that's more than 8 billion watermelons from China alone. To put it in perspective, you could circle the earth more than 120 times with that many watermelons. That's a lot of seeds to spit.
The Why
We've touched on a few points regarding why the watermelon made our superfood list, especially for summer. Since dehydration is a serious threat in the summer heat, it's an obvious food choice considering it's mostly water. Note, it's more than just the high water percentage that makes it effective for rehydration. Being naturally packed with electrolytes improves its effectiveness when it comes to replacing lost fluids.  But, it takes more than hydration alone to land a spot on our superfoods list. Watermelons are low in calories and have minimal fats making it a snack you can easily enjoy guilt-free.
If that wasn't enough to get your interest, take comfort in knowing it's rich in antioxidants vitamin C and lycopene, which actually contributes to the red color of the flesh. For those wanting something good for their heart and circulatory system, look no further. The amino acid, L-citrulline, boosts nitric oxide in your body, which in turn dilates arteries allowing for improved blood flow and blood pressure. Along with L-citrulline, watermelon is also rich in L-arginine, which can help your kidneys remove waste. Even with all of these nutrients, consider the other benefits to being well-hydrated. Things like digestion can see an improvement when your body is properly hydrated. Our bodies are mostly water and being properly hydrated can ensure systems within us function correctly. Be sure to keep this superfood in mind while you plan your next day in the warm summer sun!
The How
There are many ways to cut a watermelon. Whether it's long wedges, cubes, or smaller slices that are easy to hold, the easiest way to enjoy the fruit is simply cut and serve. The options however don't stop there. With plenty of edible flesh, we encourage you to experiment with new recipes with your favorite summer treat. From infused drinks to the grill, there's an overwhelming number of possibilities. Create your own or get started with some suggestions below!
Watermelon Lemonade

Total Time: 15 Minutes
Serves: 4-6
Ingredients:
6 cups cubed seedless watermelon, chilled
4 cups cold water
3/4 cup fresh strained lemon juice, chilled
2/3 cup granulated sugar (more or less to taste)
Ice and fresh mint for serving
Instructions:
Add watermelon to a blender and pulse until well pureed. Pour through a fine mesh strainer into a bowl.
In a large pitcher, whisk together water, lemon juice, and sugar until sugar dissolves.
Stir in pureed watermelon.
Stir in ice and mint (alternatively, add ice and mint to individual cups).
Store in refrigerator until the desired temperature is reached. Additional ice can be used to speed up the process.
Like this recipe? Find it and more like it here.
Watermelon Strawberry Caprese Salad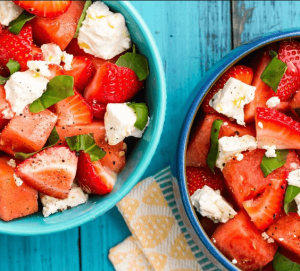 Total Time: 10 Minutes
Serves: 4
Ingredients:
3 cups watermelon, cubed
2 cups strawberries, chopped
1/2 cup feta, crumbled
1/4 cup extra-virgin olive oil
Kosher salt
Freshly ground black pepper
1/4 cup fresh basil, torn
Instructions:
In a large bowl, combine watermelon, strawberries, feta and olive oil.
Season with salt and pepper
Toss to coat
Garnish with basil and serve
Like this recipe? Find it and more like it here.
Shrimp Salad over Zesty Watermelon

Total Time: 30 Minutes
Serves: 4
Ingredients:
2 lemons
4 (1-inch-thick) watermelon slices, rind removed
Kosher salt
Freshly ground pepper
1 tablespoon finely chopped sweet onion
3 tablespoons mayonnaise
2 tablespoons finely chopped celery
1 pound peeled and deveined large cooked shrimp
2 tablespoons chopped fresh tarragon
1 (5-oz.) package baby arugula
Instructions:
Grate zest from lemons to equal 1 Tbsp. Cut lemons in half; squeeze juice from lemons into measuring cup to equal 3 Tbsp.
Place each watermelon slice on a chilled plate. Season with the desired amount of kosher salter and freshly ground pepper.
Microwave onion in a medium-size microwave-safe bowl at high for 25 seconds or just until onion is tender.
Stir in mayonnaise, celery, 1 tsp. lemon zest, and 1 Tbsp. lemon juice. Stir in shrimp and tarragon. Season with salt and pepper to taste.
Place arugula in a medium bowl. Sprinkle with remaining 2 tsp. lemon zest and 2 Tbsp. lemon juice. Season with salt and pepper to taste; toss to coat. Arrange arugula mixture over watermelon; top with shrimp mixture.
Serve immediately.
Like this recipe? Find it and more like it here.