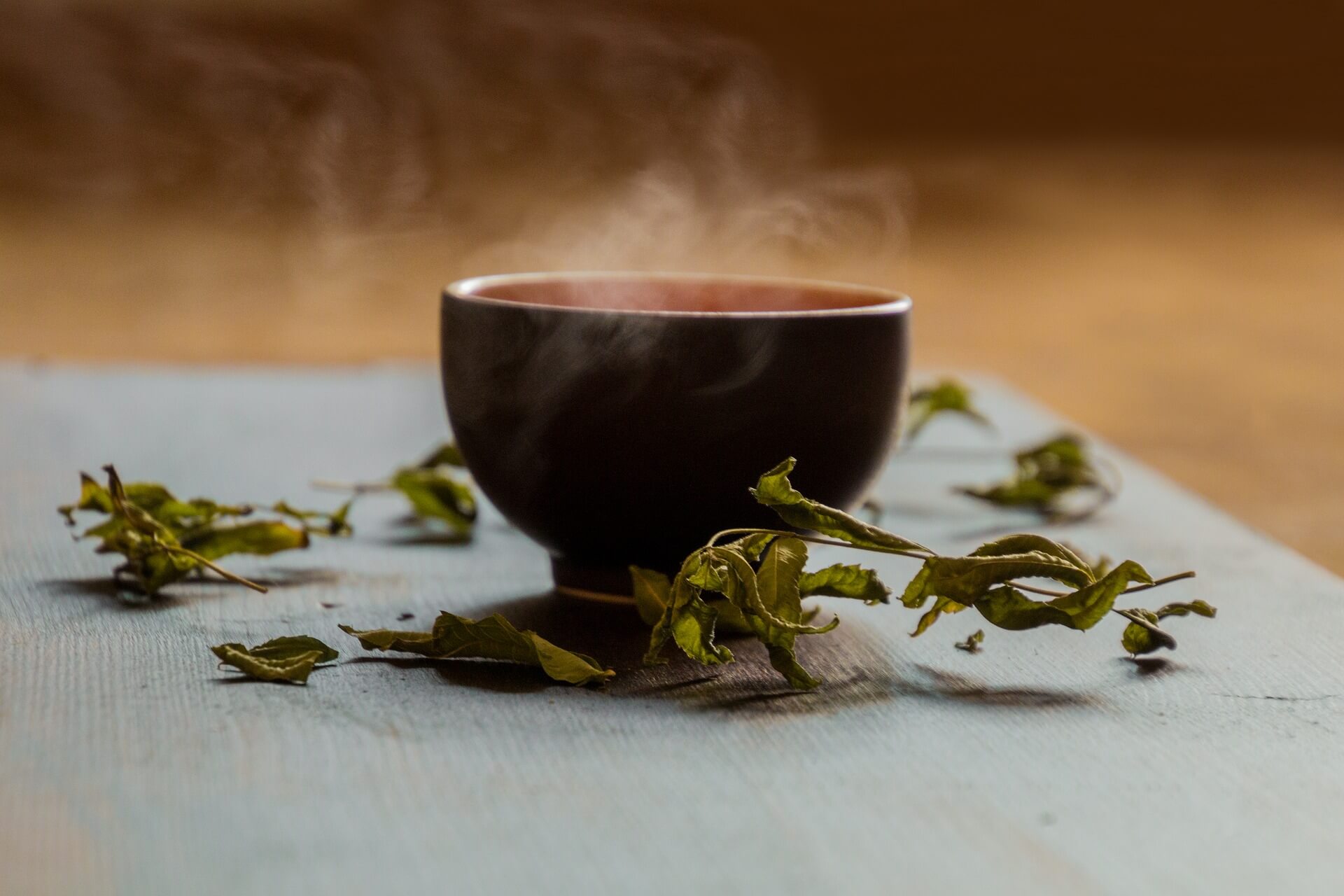 What's a drink you can enjoy hot or cold that's got more health benefits than you probably expect? The latest addition to our Superfoods series brings you the inside scoop on the many reasons to drink green tea. 
The What
Most people have likely had some type of tea, especially those from the southeast United States. This article focuses on one specific type of tea: green tea. Like black tea, green tea comes from the plant species Camellia sinensis. Ultimately, it's the plant variety and the harvesting process that defines how green tea becomes "green" and black tea becomes "black"
Originating from China, there are several beliefs about when green tea was first brewed. A common belief is that the drink was first steeped in 2737 BC during the reign of Emperor Shennong. Despite some variations in dates, the underlying fact stands out that green tea has been around for quite a long time.
Not unlike coffee, there are many factors that go into forming the flavors and colors of green tea. Things such as the climate, time of the year the leaves are harvested, and preparation of the leaves will influence the flavor and color of the tea. Even growing tea near other types of plants can influence the flavor of the plant. The most popular and widely consumed green teas come from either China or Japan. However, there are some distinct differences in how the tea leaves are processed from China to Japan. The traditional Chinese style of processing is characterized by pan-firing where the tea leaves are heated in a basket, pan, or rotating drum to halt the oxidation process. This style yields a roasted flavor that's often earthy or grassy. In comparison, the traditional Japanese style of processing uses steam heat to halt oxidation. This method brings out the rich color of the tea leaves and is present in the final brew. All of these different processing methods have led to even more verities of green tea. With some research or assistance from someone knowledgeable, finding a tea that suits your personal preferences can be done without much trouble and there are quite a number of benefits in doing so. So, what are the benefits of drinking green tea?
The Why
First off, green tea has a lot of bioactive ingredients that are good for you. It's particularly rich in polyphenols, naturally occurring micronutrients in plants, as well as a catechin called EGCG (Epigallocatechin Gallate). Catechins are natural antioxidants that help protect your cells and boost your immune system. EGCG has been found to have a multitude of benefits ranging from improving hearth health to reducing inflammation.
For those looking for a mental boost, tea is a great option. The natural occurring caffeine present in the leaves makes its way to the drink when steeped. For those who may be sensitive to caffeine or simply want to reduce the amount they consume, tea is a good alternative since it contains less caffeine than a typical cup of coffee. While too much caffeine can be harmful, numerous studies have demonstrated the positive impacts caffeine can have. Caffeine inhibits neurotransmitters known to slow down brain activity while influencing others like noradrenaline and dopamine. These changes can help improve mood as well as boost cognitive performance. Consuming smaller amounts of caffeine can help you reap these benefits without feeling jittery, a common side effect of higher doses of caffeine.
When it comes to boosting mood, green tea can also help reduce stress and anxiety. Green tea contains the amino acid, L-theanine which has been studied for the positive effects it may have on the brain. A study using mice showed the effectiveness of L-theanine compared to common anxiety medications. Other claimed benefits of regularly drinking green tea include the protection of your brain as you age, potential to help prevent certain types of cancer, as well as lowering the risk of developing type 2 diabetes. Many claims have been debated and some are considered inconsistent at best, but green tea nonetheless boasts some health benefits that rank it higher than nearly any other drink in our superfoods series.
The How
If you weren't already overwhelmed by the many types of green tea, prepare to have even more choices when it comes to purchasing it. Whether you choose to purchase loose leaf, single tea bags, pre-brewed and bottled, or as an instant powder, there aren't many reasons why you can't enjoy it in some form. It is worth noting that bottled green tea may not contain as many of the health benefits of brewing it yourself due to processing methods and additives like sugar. With that being said, we're focusing on brewing it and have a few ideas below to get you started. We recommend trying out different suppliers as well as tea types to find your favorite.
Naturally Sweetened Iced Green Tea

Total Time: 21 Minutes
Serves: 6
Ingredients:
1/4 cup lime juice, plus 3 limes sliced for garnish
1/4 cup lemon juice, plus 2 lemons sliced for garnish
5 cups water, (2 cups boiling, plus 3 cups cold)
5 tea bags, Jasmine Green Tea Bags
1/4 cup honey, plus more if desired (up to 1/2 cup)
18 mint leaves
Instructions:
Transfer lime juice and lemon juice to a large pitcher.
Bring 2 cups of water to boil in a medium saucepan. Once the water reaches 170 to 185°F, add 5 green tea bags into the hot water.
Steep for 3 minutes or according to package instructions.
Using a large spoon, gently press the tea bags against the pan to extract the tea further. Carefully remove and discard the tea bags from the saucepan.
Add honey, and stir until dissolved. Pour tea and honey mixture into the pitcher.
Add 3 cups of cold water to pitcher. Stir until well blended. Add more honey, if desired.
Serve chilled green tea with ice cubes, a few lime slices, lemon slices and 3 fresh mint leaves in each glass.
Like this recipe? Find more like it here.
Hot Spiced Green Tea

Total Time: 15 minutes
Serves: 4
Ingredients:
2 cinnamon sticks (3 inches)

4 individual green tea bags

1/2 teaspoon minced fresh gingerroot

1/2 teaspoon grated lemon peel

4 cardamom pods, crushed

4 cups boiling water

2 tablespoons honey
Instructions:
In a large bowl, combine the first five ingredients. Add boiling water.
Cover and steep for 5-6 minutes.
Strain, discarding tea bags and spices.
Stir honey into tea. Serve immediately
Like this recipe? Find more like it here.