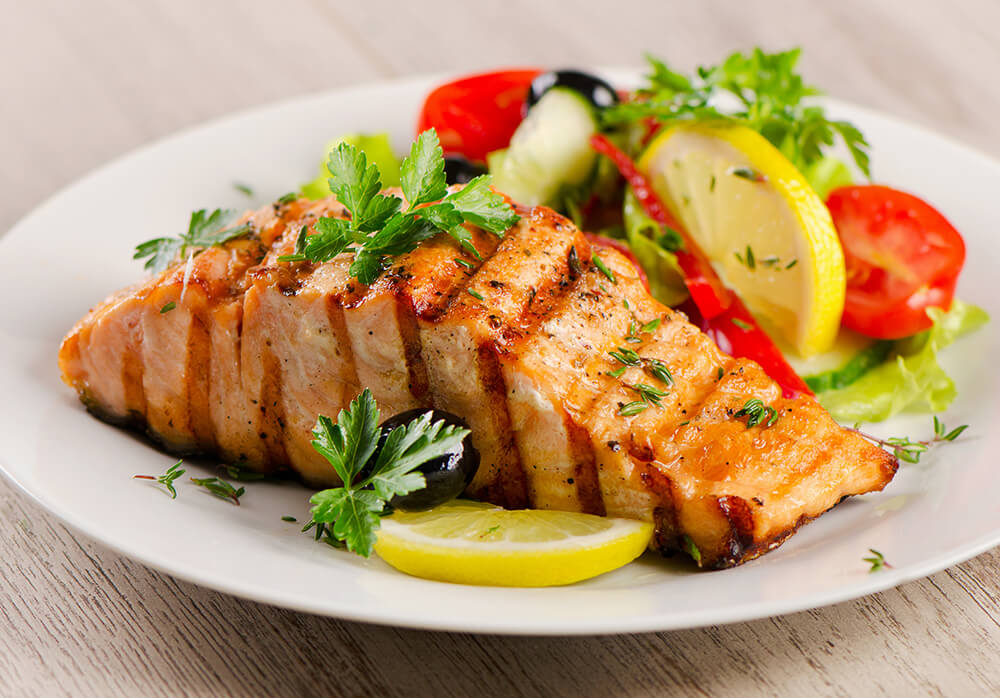 Are you looking for an easy dinner idea? Try this great salmon dish that follows the healthy Mediterranean diet.
Shown to increase cardiovascular health, and decrease your risk of developing Alzheimer's disease, the Mediterranean diet emphasizes fruits, vegetables, fish, and healthy fats. Salmon is great source of omega-3 fatty acids, which improve blood pressure and the overall health of your blood vessels. By baking the salmon with olive oil instead of frying, you are cutting down on unhealthy fats. Olive oil contains monounsaturated fats, which can help lower the amount of bad cholesterol in your blood. Finally, by using tomatoes, garlic, and shallots to season your food instead of large amounts of salt, you can further reduce your blood pressure and subsequent risk of heart disease.
Yield: Serves 2
Ingredients
8 oz of salmon filet with or without skin, can be divided in two portions before or after cooking
1/2 pint cherry or grape tomatoes
1 large clove garlic, crushed
One shallot, finely chopped
1/2 tablespoon capers
Crushed black pepper
1/2 tablespoon olive oil
Feta cheese, approximately 2 ounces
Preparation
Preheat oven to 400 degrees. Dice tomatoes and place in a bowl with garlic, shallots and capers. Season to taste with freshly ground black pepper and mix thoroughly. Line a baking dish with aluminum foil and allow enough foil hanging over the sides to wrap the salmon up after preparing. Drizzle the olive oil on top of the foil at the bottom of the pan and place the salmon in the center. Season the salmon with some freshly ground black pepper then add the tomato mixture to the top of the salmon. Either crumble feta or use slices of feta on top of tomato mixture. Package salmon and tomato mixture up in the foil and place in oven for 20 minutes at 400 degrees. Serve with a side of baby arugula salad with strawberries, walnuts and balsamic vinaigrette (1 tablespoon Extra Virgin Olive Oil, 2/3 tablespoon balsamic vinegar, 1 teaspoon Dijon mustard, and salt and pepper to taste).
Nutritional Data Per Serving
Calories: 450 per serving