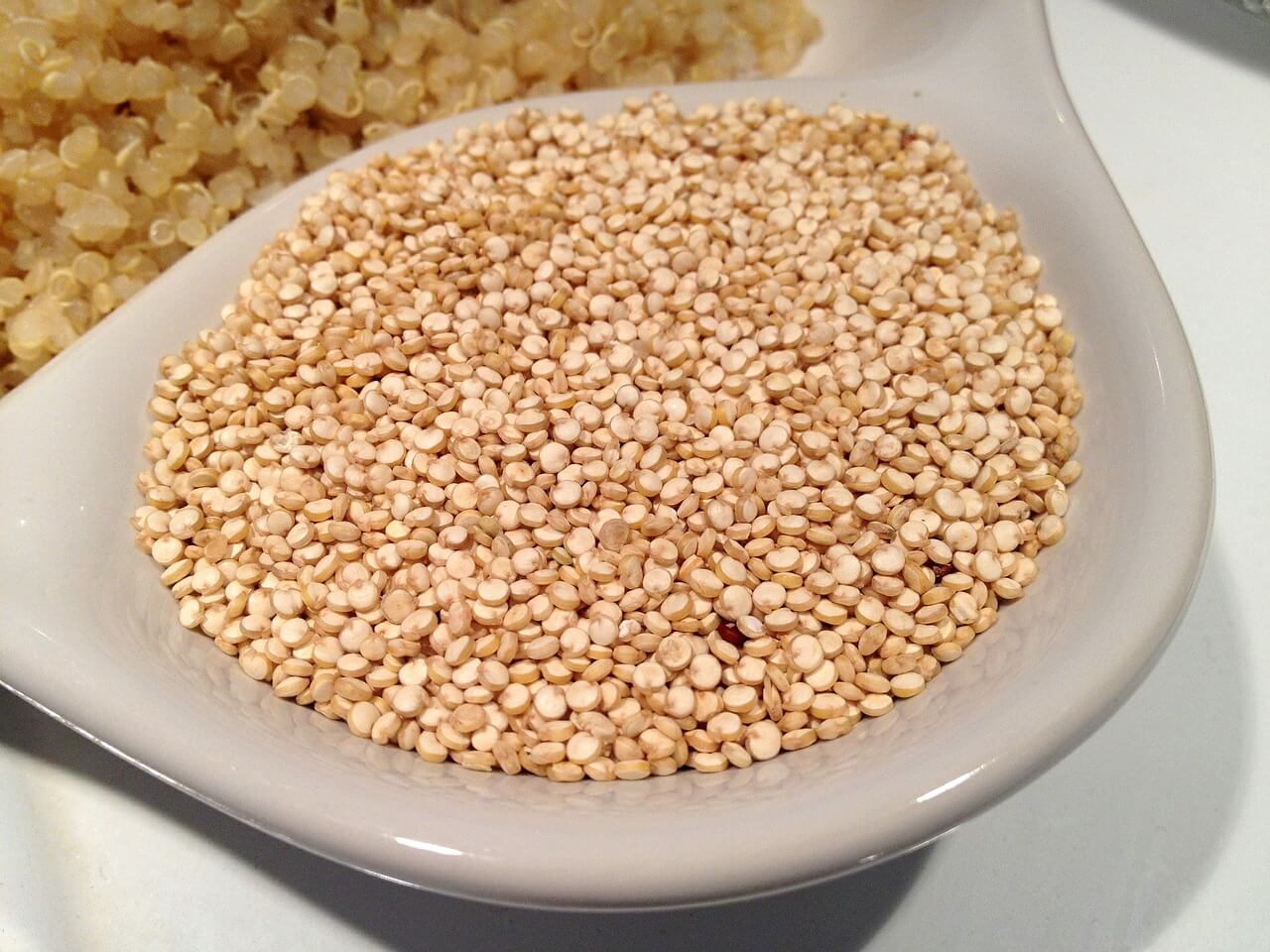 What if I told you there was a whole grain that was easy to cook, tasted great, and was packed with enough nutrition to be a staple food source for thousands of people? We'll skip the red and blue pill for now and go straight ahead to the next contender in our superfood series: quinoa.
The What
A popular health food, quinoa (pronounced "keen-wah"), has a history almost as rich as it is in nutrients. Although technical a seed from the same family as beets, chard, and spinach, quinoa is usually considered a whole grain similar to rice, wheat, and barley. Its lineage can be traced back thousands of years to South America as it was a staple food source of the ancient Inca civilization and their descendants. Quinoa is a resilient plant, grows well even in poor soils, and has been designated a "super crop" by the United Nations. There are over 120 different varieties of quinoa with white quinoa, red quinoa, and black quinoa being the most commonly available types.
The Why
There are many reasons why quinoa is a great addition to anyone's diet. Aside from it being packed with nutrition, there are other characteristics that can appeal to those looking for a new staple whole grain. For starters, quinoa is easy to cook. It takes less time to cook than other whole grains and cooks even faster than rice. You can cook quinoa in just 10-15 minutes making it an ideal choice for those on a time constraint or who simply don't like waiting. You might be wondering what you need to add to it for a great tasting meal or side. Good news, quinoa tastes great on its own!  Add some olive oil, salt, and lemon juice for a quick and simple, great-tasting dish.
Along with its overall convenience for preparation, it's the nutritional value that really stands out. There's a reason it served as a staple food for generations in South America. In just 100 grams of quinoa, there are 4 grams of protein. That's twice the amount of protein found in the same serving of white rice. It's important to note that the protein found in quinoa is a complete protein. Complete proteins, also known as whole proteins, are consist of all nine essential amino acids in adequate amounts. Couple this with it being gluten-free and it's easy to see why this is a great option for vegetarians, vegans, and individuals with gluten allergies.
The nutritional benefits don't stop with complete protein though. If you're wanting to add more manganese, magnesium, and calcium to your diet, quinoa is a delicious route to choose. With manganese serving a range of functions from the production of digestive enzymes to bolstering the immune system, it's a trace mineral you don't want to skip on. Boost your energy with some added magnesium and don't forget calcium for building strong bones. Did we mention quinoa is high in anti-inflammatory phytonutrients? Phytonutrients is simply a broad name for a wide variety of compounds produced by plants. While they aren't essential to staying alive, like vitamins and minerals are, they can help prevent disease and keep your body working properly.
So, now that we know why quinoa should be a part of your diet, here are a few recipes to help get you started.
The How
Smoky Quinoa and Bacon Salad


Total Time: 45 minutes
Serves: 4
Ingredients:
1 cup uncooked quinoa
2 cups water
Pinch of kosher or sea salt
8 pieces of bacon
1/4 cup extra-virgin olive oil
2 tablespoons balsamic vinegar
1 teaspoon spicy brown mustard
1 teaspoon brown sugar
1/2 teaspoon smoked paprika
1/2 teaspoon ground chipotle
1/4 teaspoon kosher or sea salt
Fresh cracked black pepper, to taste
1/4 medium red onion, thinly sliced
1/4 cup chopped Italian parsley
Instructions:
Combine the quinoa, water and salt in a medium saucepan. Bring the water to a boil, and after the water begins to boil, reduce the heat to low and cover the pan.
Gently simmer, covered, for 15 minutes (there may still be some water not yet absorbed). Remove from heat.
Keeping the pan covered, let it stand for 5 minutes, or until the remaining water is absorbed. Remove the lid and gently fluff the quinoa. Set aside to cool.
Crisp the bacon, drain and cut into 1-inch pieces. Set aside.
In a bowl, whisk together the olive oil, balsamic vinegar, mustard, brown sugar, smoked paprika, chipotle, salt and pepper. Set aside.
In a large bowl, toss together the cooked quinoa, bacon pieces, red onion and parsley. Toss with the dressing and serve at room temperature or chilled.
 Like this recipe? Find more like it here.
Easy Quinoa Salad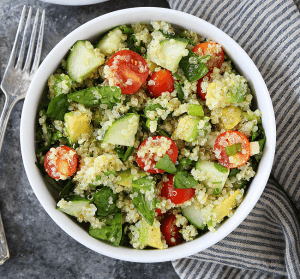 Total Time: 10 minutes
Serves: 4
Ingredients:
For the Dressing:
1/4 cup olive oil
1 clove minced garlic
2 tablespoons lemon juice (1 large lemon)
1 tablespoon golden balsamic vinegar or champagne vinegar
1 teaspoon pure maple syrup or honey
Kosher salt and black pepper, to taste
For the Salad:
2 cups cold cooked quinoa
2 cups fresh spinach leaves, chopped
1 cup chopped cucumber
1 cup halved grape or cherry tomatoes
1 large avocado, pitted, peeled, and chopped
2 green onions, sliced
Kosher salt and black pepper, to taste
Instructions:
First, make the dressing. In a small bowl or jar, whisk together the olive oil, garlic, lemon juice, vinegar, maple syrup or honey, salt and pepper. Set aside.
In a large bowl, combine quinoa, spinach, cucumber, tomatoes, avocado, and green onions.
Drizzle salad with dressing and gently stir until salad is coated with the dressing. Season with salt and pepper, to taste. Serve.
Like this recipe? Find more like it here.