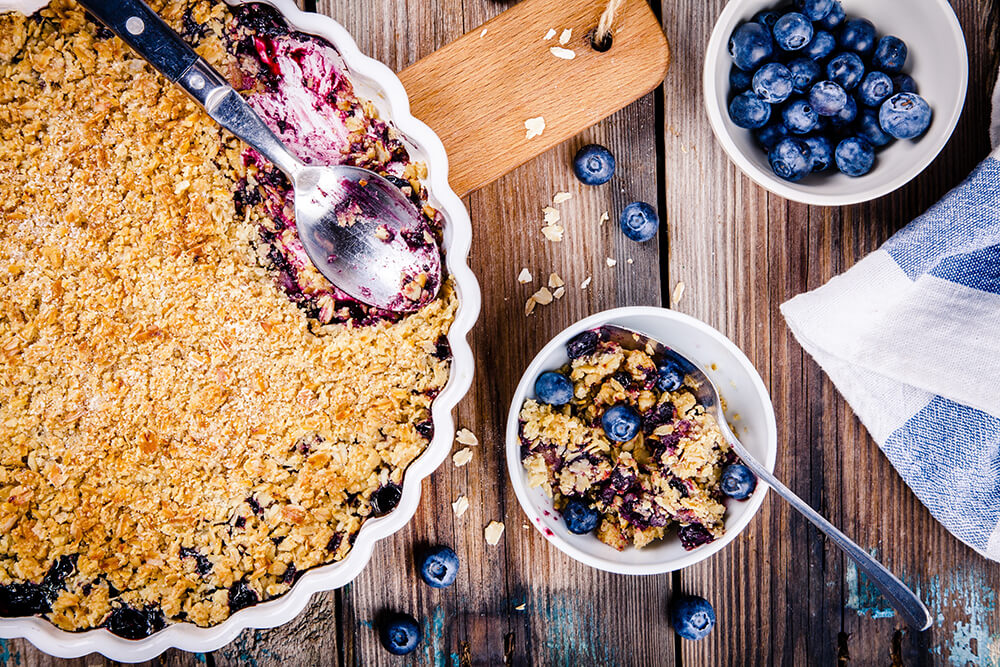 Are you looking for a new dessert recipe? Try making Oatmeal Blueberry Crumble for your next dinner party this summer.
This simple dessert recipe comes together quickly using blueberries and just a few pantry staples! The oatmeal in this recipe contains a soluble fiber, also known as beta glucan, which has been proven to lower bad cholesterol and also helps you feel full, eases constipation, and controls blood sugars. Blueberries can help decrease the effects of age-related diseases on the brain, as well as improve learning capacity and motor skills. Lastly, almonds can help lower cholesterol levels, decreasing your risk for heart disease and are an excellent source of vitamin E.
Ingredients
1/3 cup quick-cooking oats
1/4 cup dark brown sugar
1/4 teaspoon salt
1/2 cup chopped almonds
2 tablespoons chilled butter, cut into small pieces
2 tablespoons dark brown sugar
2 teaspoons cornstarch
1 teaspoon freshly grated lemon zest
1 tablespoon freshly squeezed lemon juice
3 cups fresh or frozen blueberries*
*If you can't find fresh blueberries, you can use frozen blueberries or any other berry that is in season.
Preparation
Preheat oven to 375º. Spray baking dish with non-stick spray. You can either use individual, 4 – 6 ounce ramekins or a 1 ½ quart baking dish. In a large bowl, mix brown sugar and cornstarch until well blended. Add blueberries and gently toss to coat. Add lemon zest and juice and toss to combine. Place oats in food processor fitted with steel blade. Process for 15 seconds. Add brown sugar and salt and pulse four times to combine. Add almonds and pulse two times. Sprinkle the small pieces of butter on top of the oat mixture and pulse five quick times. Pour the berry mixture into the prepared baking dish (if using ramekins, pour ½ cup berries into each). Spread the topping evenly over the berries. Bake for 30 minutes, or until filling is very bubbly and topping is browned. Let sit for 10 minutes before serving.
Video
Board-certified Emory bariatric surgeon Edward Lin, MD, joins New York Times best-selling author Carolyn O'Neil in Emory's Recipes for Wellness nutrition series.
https://youtu.be/5EqaQ1Es-1s