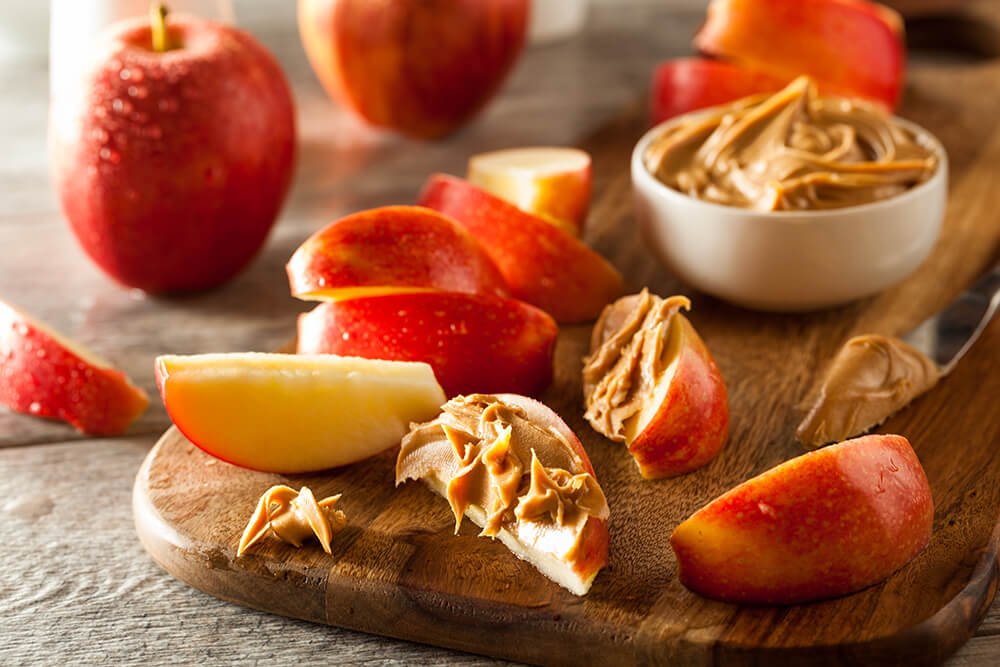 When you think of snacks do you think of potato chips, candy and other pre-packaged goods? Those choices are high in calories, sugar and salt. But snacking doesn't have to be bad for you. In fact, if you choose wisely, adding healthy snacks into your diet can be a good way to curb your appetite and add important nutrients. Try incorporating these healthy options into your routine. All are 100-calorie or less!
1. Creamy Cocoa Fruit Cup (86 calories)
Nutrients in fruit are vital for a healthy diet. With less than 100 calories, you can enjoy this rich dip without worrying about the calories. Combine 1/4 cup yogurt with 1 teaspoon cocoa and serve with a piece of sliced fruit, such as peaches, plums, nectarines or pears.
2. Greek Yogurt Fruit Smoothie (97 calories)
Drinking a fruit smoothie is a delicious way to get extra calcium and antioxidants during your day. Blend together ½ cup plain, fat-free Greek yogurt, ¼ cup frozen strawberries, ¼ cup 1% milk, and 1 packet of sugar substitute (optional). This smoothie is high in protein without the use of protein powder. Be sure to use frozen strawberries that do not have any added sugar.
3. Apple Slices and Peanut Butter (90 calories)
Apples and peanut butter are a delicious and healthy snack. This easy snack gives you healthy carbs with a decent dose of protein. Combining sweet with salty is a great way to satisfy the munchies. To stay under 100 calories, use two teaspoons of peanut butter.
4. Grapes (100 calories)
Grapes are a great source of vitamin K, manganese, and fiber. Grapes are loaded with water, which helps to keep you hydrated. One cup of grapes is 100 calories.
5. Popcorn (100 calories)
When you want something filling with a small calorie count, popcorn is the perfect snack. Popcorn provides whole grains, fiber, and antioxidants. Six cups of popcorn contains 100 calories.
6. Almonds (98 calories)
When the munchies strike while you're on the go, you can eat 14 almonds without hitting the 100-calorie mark. Plus, they're rich in fiber and protein, which helps to reduce hunger.
7. Pretzels (96 calories)
Pretzels are a convenient snack when you're on go. To remain under 100 calories, consume no more than six whole-grain pretzel sticks. This snack is low in fat and sugar, cholesterol-free, and provides more than 3 grams of fiber.
8. Baby Carrots with Hummus (90 calories)
When you're craving a satisfying crunch, dip eight baby carrots into two tablespoons of hummus. Carrots are an excellent source of beta carotene and Vitamin A, while hummus adds protein.
9. Crackers with Cheese (98 calories)
Whole-grain crackers is important for this classic snack. Fiber from the whole-grain crackers will keep you feeling full between meals and the cheese provides calcium and protein. To stay under 100 calories, cut up one slice of low-fat cheese and split it over three whole-grain crackers.
10. Tomato Soup (74 calories)
Tomato soup contains as little as 74 calories per cup, no cholesterol, and less than 1 gram of saturated fat. Remember when buying canned soup, look for labels that say "low sodium."
If you try one of these healthy snack options, please let us know what you think!